A long time ago in a Chamber meeting far, far away, a 5K event was born in honor of Bob Blazier's unparalleled community accomplishments. Bob was to name a charity of his choice and he chose Raue Center For The Arts!
Lace-up those shoes and get ready to run The Most Epic Run in Theatrical History!  This year, Raue Center's 24th annual Bob Blazier Run for the Arts encourages participants to come as their favorite characters from movies, tv, books, or music!
Twenty-four years later, the event continues to grow and build community, just like Bob. For over 50 years, Bob Blazier has truly defined what it means to be a community-minded citizen. His dedication and commitment to education, healthcare, and building business is something to be celebrated and admired. Come out and run for the arts for a chance to win a coveted BOBble Head Trophy! 
Have a young artist in your family who'd like to participate in the T-SHIRT DESIGN CONTEST?
Click HERE for more info!
Not sure if you've registered yet? Click HERE to check on your status.
Through April 18th: $30*
April 19th – 27th: $35*
April 28th – Event Day: $40*
Through April 18th: $20*
April 19th – 27th: $25*
April 28th – Event Day: $30*
NOW THROUGH EVENT DATE: $30*
Interested in running with a team?
The Bob Blazier Run for the Arts Corporate Challenge is designed to help companies foster healthy lifestyle choices and a commitment to wellness while participating in a fun and exciting competition. The challenge is easy! Get as many employees, business partners, friends and family together to compete in four categories: Greatest Overall, Most Money Raised, Most Team Spirit, and Best Average Team Time! All team members must pre-register to participate in the Team Challenge.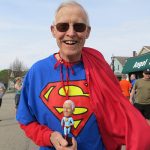 Why a BOBble Head? Click HERE to learn more about Bob Blazier and his heroic contribution to this community.
*All registrations include a Race Day long-sleeve shirt. T-shirts are only guaranteed to the first 300 5K registrants ($2 extra for XXL). After April 19th, shirts will be given out on a first come first serve basis.