Join Our Family » Crystal Lake, IL Theater
Become a Member
An annual RaueNOW membership distinguishes you as a friend and supporter of Raue Center For The Arts and the work we do to keep the arts alive and thriving in our community. By becoming a RaueNOW you are directly helping Raue Center's mission to "bring the arts to all" and as you do so garnering a number of benefits for yourself.
Memberships start at just $50 and tier all the way up to $2,000. Each membership tier comes with a unique set of benefits, but all members enjoy the following:
30% Off Two Single Tickets to Most Raue Center Events
Exclusive Access to our Member Lounge, 26N
Early Access to Newly Announced Events
Behind-the-Scenes Access
Membership Fee is Tax-Deductible
To learn more about RaueNOW or to become a member, please click the logo:
Work With Us
Volunteer Opportunities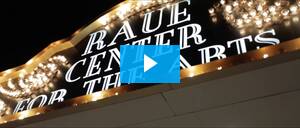 Raue Center's volunteer program is vital to the theatre's success. Raue Center has welcomed over 400 volunteers to date, each one striving to provide great service to every patron. Our volunteers include house managers, team captains, ushers, concessions, box office, merchandising, security and administrative office support. Become a part of Raue Center's
family and make the theatre your home away from home!
We would be happy to share more information about the program or meet with you if you are interested.
A full list of volunteer opportunities can be found HERE.
Please let us know if you or a friend is interested in volunteering by filling out an application online by clicking HERE.
Or by contacting Raue Center's House Manager Ari DeGenova at adegenova@rauecenter.org or by calling 815.356.9010×10.
Job Opportunities
Part-time Box Office employee
Raue Center for the Arts in downtown Crystal Lake is looking for engaged students who are curious, friendly and eager to see how a theater works behind-the-scenes! Must be at least 16 yrs old. Customer service and phone skills a plus. General computer and Microsoft Excel experience a plus. After-school and weekend hours available. To apply, please send work experience and education background to administration@rauecenter.org. Click here to view the flyer.
Internships
Raue Center offers internships in our administration office, covering aspects of literary and production administration, as well as marketing and development. Experience is not needed but helpful. Applicants should be interested in a career in production, arts administration, marketing, or development. Interested in an internship? Please email fellows@rauecenter.org. No phone calls, please.
Fellowships
The Fellowship at Raue Center is a professional development program for early-career
talents interested in working in theatre and performing arts. Fellows will join an amazing
team during their year-long tenure with Raue Center. Fellows should be focused and
passionate about improving the Arts in America. Through hands-on experience, collaborative
work, mentorship, and career-guidance, Fellows develop the tools to become insightful new
leaders in the Arts. Interested in a Fellowship? Please email fellows@rauecenter.org. No phone calls, please
Click HERE for more information and testimonials about the Fellowship program.
Click HERE for Fellowship Program application requirements.
Auditions
Click HERE for more information about auditions and working with our in-house professional theatre company, Williams Street Repertory.
Corporate Partnership
Sponsorship Opportunities
Sponsorship opportunities provide an effective avenue for your business to further its marketing and community relation goals by reaching a highly desirable audience. Raue Center's audience demographics demonstrate that our patrons are highly educated, own homes, are web savvy and are residents of the entire region with substantial annual household incomes.
Sponsorship of our season will also highlight your business' commitment to serving the needs of the entire region, while helping to drive continuing revitalization and businesses to Crystal Lake and McHenry County as a whole. Packages are built based on your individual business' needs.
All sponsorship packages are flexible and can be customized to fit your needs. We also accept in-kind donations and can create a sponsorship package based on the value of your donated items.
To learn more about becoming a sponsor, please call Richard Kuranda, at 815.356.9010 x 12 or email rkuranda@rauecenter.org.
Advertising Opportunities
Theatre advertising allows your business to take centerstage at Raue Center when you advertise in our full-color annual program book for Raue Center performances. Additional advertising opportunities are available through Raue Center's website, newsletter and TV monitor in the theatre's lobby.
Contact Miriam Naponelli, Marketing Director, at 815.356.9010 x 17 or email mnaponelli@rauecenter.org
Become a Donor