Raue Center Cafe
Writer's Series
Free Admission
Join us for Raue Cafe's newest literary program, Writer's Series. Local area authors share their work–from children's books to historical novels and everything in between– followed by a Q&A. Stay for the meet & greet afterward to meet the author and perhaps get your book signed!
"Mya Papaya Meets the Wizard of Teeth"

written by Jim Wojdyla & Dr. Tim Stirneman
illustrated by Jim Wojdyla 
Oct 2, 2019 | 6 to 8p
"Mya Papaya" has the rhyme and imagination of Dr. Seuss, the empowered young and adventurous spirit of Dora the Explorer, and the charming and inseparable bond between friends like Calvin and Hobbes.
In "Mya Papaya Meets the Wizard of Teeth," the book opens with each character introducing themselves and asking a question for the readers to answer which makes for a very fun and interactive reading experience for both kids and parents alike.
Order on Amazon!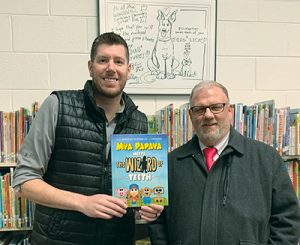 Biography:
Jim Wojdyla and Tim Stirneman live and work in the suburbs of Chicago. Jim is married with an 11yr old daughter, Tessa, 2-year-old daughter, Charlotte and 6-month-old son, Joey. He is the lead singer for a popular local band called Modern Day Romeos for the past 16 years. He graduated from Columbia College Chicago studying marketing, public relations and art. Dr.Tim has three kids in their 20's Kurtis, Kenny and Katie and two adorable grandchildren, Sammantha and Issac. Dr. Tim owns a successful dental practice, Compassionate Dental Care, and has been serving the community for almost 30 years. He graduated from Creighton University with a math degree and also from Creighton School of Dentistry. Mr. Jim and Dr. Tim's shared devotion to local community outreach and entertaining and inspiring children is what brought them together. Jim's children and Tim's grandchildren give them daily inspiration to bring funny, thoughtful and meaningful stories to life to empower and encourage adventure, bravery and to always exercise their imaginations.