Tickets
Member: $21* | Regular: $30* | Virtual: $20* (per household)
Usher in Autumn and say "hello" to Halloween by joining Chicago cabaret artist Sierra White as she celebrates all of the chilly, silly, and spooky things she loves about October. Treat yourself to spellbinding tunes from masters of mood like Nancy Wilson, Tom Waits, Eartha Kitt, and more! After all, there is nothing more magical or haunting than a good song.
Virtual Tip Jar:
The restrictions caused by the COVID-19 crisis have devastated the local music community. A Virtual Tip Jar for the artists will be available throughout the entirety of this performance. Thank you in advance and we hope you enjoy the show! Please follow the QR code below to the virtual tip jar.
You may recognize Sierra White as she has frequented Raue's stage in many Williams Street Repertory productions!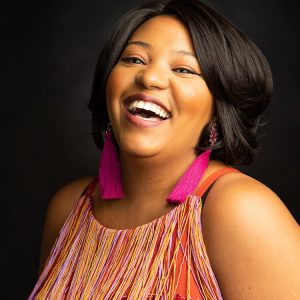 Sierra White was born, raised, and is still based in the greatest city in America, Chicago, Illinois. The people are beautiful and passionate, the culture is vibrant and eclectic, and she likes to think that she brings those very same qualities to every role she plays and every song she sings. Ms. White has been working professionally in entertainment since the age of eighteen and has been a proud member of the Actors Equity Association since her induction at the age of twenty-two, however she has been in love with performing her entire life. Some of her favorite credits include All Shook Up (Sylvia), Little Shop of Horrors (Ronette), Smokey Joe's Cafe(B.J.), A Raisin In The Sun (Ruth Younger), Hot Mikaido (Katisha), Chicago (Matron Momma Morton), and Lady Day at Emerson's Bar and Grill (Billie Holiday). Sierra can be seen singing regularly at The Darling supper club and lounge in Chicago and with her lounge duo Milk & Honey. For more information please visit www.thesierrawhite.com. She would like to thank her mother and JP for their love and support! 
*Restrictions and fees apply. All ticket sales are final and non-refundable. Please note, a $7 facility fee will be added to all live ticket orders.
SOCIAL DISTANCING PROTOCOLS FOR SEATING:
Due to official state mandates, we have to cap both performances at 50 people. Patrons can buy up to 4 tickets per live ticket order.
Raue Center for the Arts will be spreading the audience out to maintain safe social distance and will be strictly following other safety protocols. Masks will be required when entering the space and throughout your stay.
If you're still unsure about sharing a night with us for a live event, the virtual ticket is the perfect way to stay home and enjoy the cabaret.
TICKETING INFORMATION
Live Tickets: When you purchase seats, they will be assigned based on current social distancing protocols. You will receive an email within 24 hours of purchase with assigned seats.
Virtual Ticket: Upon purchasing a virtual ticket, you will receive a confirmation email with a link to Raue Center's Vimeo page where you will be able to view the performance. The event will go live at 6:30 PM with our pre-show.
If you have any questions, please contact our Box Office at boxoffice@rauecenter.org.
Click HERE for New COVID-19 Rules and Restrictions.