Event Navigation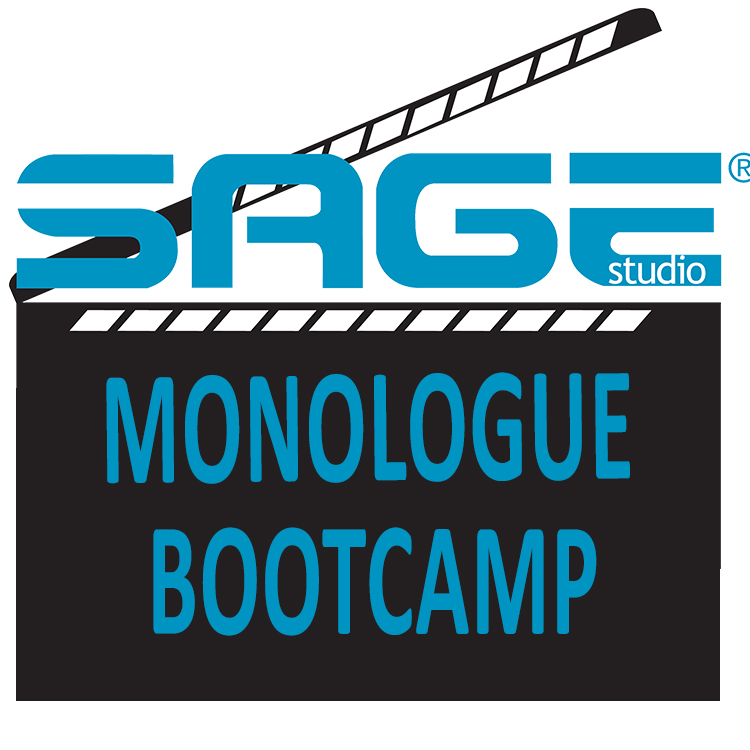 MONOLOGUE BOOTCAMP FOR ACTORS
September 7 @ 1:00 pm

-

September 28 @ 3:00 pm
MONOLOGUE BOOTCAMP FOR ACTORS
PART OF SAGE STUDIO BOOTCAMP SERIES
SEPTEMBER 7 – 28
Saturday afternoons, 1-3 PM
Ages 15-18 (HS Freshmen eligible if under 15)
Tuition: $150*
Buy Now
Before an actor can hit the stage in that starring role, they usually play on a smaller stage in the audition room–all by themselves–and the perfect piece for the actor often helps seal the deal. In this four-week course for teen actors, Sage Studio takes a deep dive into one of the most often-requested genres for auditions of all sorts–the monologue.
With a focus on making bold choices, character analysis, and learning practical strategies for making the moment come alive onstage – and led by a staff of working theatre professionals–MONOLOGUE BOOTCAMP will explore pieces from both classical and contemporary literature, and help students build their repertoire with show-stopping new material for all sorts of audition scenarios.
This class culminates in a showcase for industry professionals, including representatives from Williams Street Repertory, the in-house professional theatre company at Raue Center for the Arts.
Registration deadline: August 23, 2019
Registration to current students only begins: July 17th
Public registration begins: August 1st

*A $5 convenience fee will be added to each registration

---
REGISTER: Register online through Ticketforce by following the link, or in person at the Raue Center Box Office.
FINANCIAL AID: Available for all Sage classes! Contact education@rauecenter.org for more information on this program.
FAMILY DISCOUNT: If a family has multiple students enrolled in Sage Studio courses, we offer a multi-student discount–the first child is enrolled at full price with any additional children at $50 each! Contact us for more information. 
REFERRAL DISCOUNT: If a student registers for their first Sage Studio class and lists a current Sage Studio student who referred them, both students receive $10 off their registration fee. Contact us for more information. (Please note this is a one-time discount, and not valid for students in the same family.)
REFUND POLICY: 25% of the registration fee is non-refundable. There is a $5 convenience fee for registration. In the event that your child cannot participate in the class after you have registered, Raue Center will issue a refund of your registration fee less 25% up to two weeks before the start date. After this time period, if your child cannot participate in the class we will refund you less 25% in Sage Bucks, which are redeemable for any upcoming Sage class within a year of cancellation, or can be used at Raue Center for tickets to WSRep, etc. (restrictions may apply).  Families must designate usage of bucks within 30 days of notification of cancellation. Restrictions may apply.