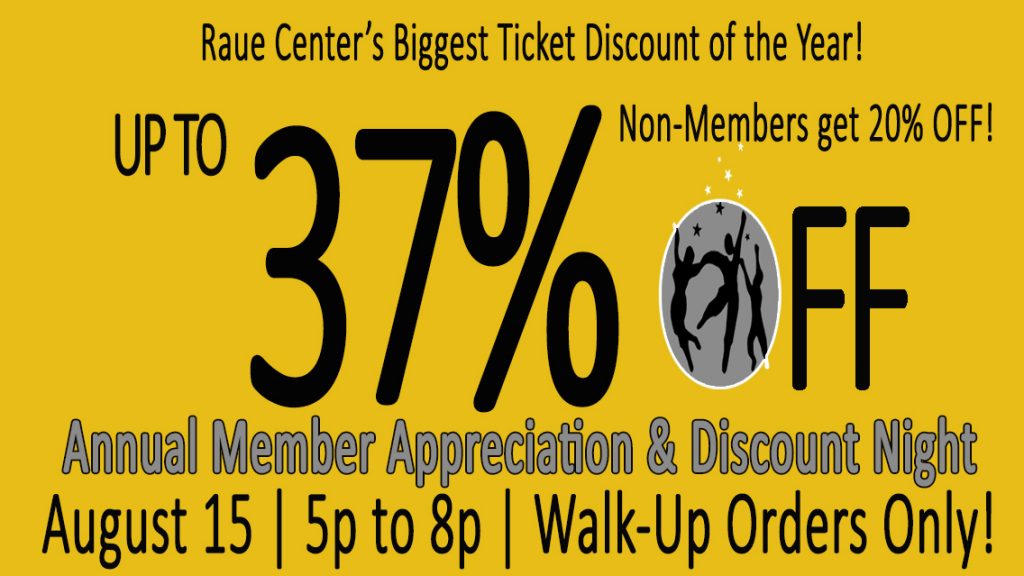 RaueNOW MEMBERS: If you're a RaueNOW Member or become a Member on Discount Night, August 15th from 5 to 8p & receive up to 37% OFF Raue Center shows! including Amy Grant, Jane Lynch, Paula Poundstone, Rita Rudner, & so much more*!
Not a Member? Not to worry! Non-members get 20% OFF*!
It's easy to join! There's a level for every budget! Plus, your membership donation is tax-deductible & goes directly to support great art in your community & to provide arts education to thousands of local children. Click here to learn more!
*Please Note: Some restrictions apply. The discount is only good Thursday, Aug 15 from 5p to 8p. This offer is not available online or by phone. Walk-ups purchases only through Raue Center Box Office | 26 N. Williams Street, Crystal Lake, 60014. All shows listed above will have additional fees and restrictions. Prices vary depending on zone. Prices above reflect Zone C. Member discounts are not applicable on fundraisers. Prices, Dates, and Shows are subject to change. Discounts on Member Appreciation night are not retroactive. Not available on NISO, Sing-Along Messiah, and CL Strikers. Members receive the discount on 4 tickets and non-members receive the discount on 2 tickets.
**Denotes a ticket limit of two tickets.