Diva in Residence Lynne Jordans sings us into Spring!
Raue Center announces its new Artist Residency Program with the appointment of vocalist Lynne Jordan for 2021-2022! This new, groundbreaking,  year-long residency will allow us to explore Lynne's artistry through a series of 5 concerts, recorded interviews, talkbacks, etc.  The Raue Center will not only explore and develop her original work as "diva in residence"  but also delve into some of the more poignant storytelling styles that have made her a favorite daughter of Chicago for over 30 years.
Lynne Jordan's residency is possible due to the generous support of Pamela J. Althoff.
Recommended Audience: 12 +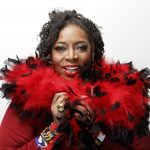 Biography
In a city (Chicago) brimming with classic blues and jazz divas, Lynne Jordan stands apart. Not only do her soaring vocals dip effortlessly into blues, jazz, funk, rock, and even country but her personality wins over any crowd. Her talent so dazzled the Second City that the late Chicago film critic Roger Ebert declared her his "favorite diva." Backed by her sizzling band The Shivers, Jordan quickly developed into a Chicago institution, playing jazz and blues clubs, The Chicago Bluesfest, swanky lounges and even the charity circuit throughout the country. She brought her special brand of storytelling, raw humor, and performance to Chicago, New York, and Atlanta with her sold-out show, A Musical Tribute to Nina Simone.
Growing up in Dayton Ohio, Jordan came from a family of church-going singers who encouraged humility. She down-played her big voice until she was singled out to star in school musicals. Arriving in Chicago to study at Northwestern University, Jordan promptly changed her major from journalism to theater and has been performing non-stop ever since. She performed as an Arts Ambassador representing the City of Chicago in Moscow and Kyiv and has graced stages throughout Europe and South America and was featured in the Jazz Opera, Don't Worry, Be HaRpy by French composer Isabelle Olivier. The show returned to Paris for a third tour in June 2016. Lynne is currently featured live with the great Corky Siegel Chamber Blues- "an exhilarating experience!" She has released two CD's to date and is featured on recordings by Tom Waits, Urge Overkill, Toronzo Cannon and several compilations, most notably a tribute to Janis Joplin: Blues Down Deep: Songs of Janis Joplin which also featured Etta James, Otis Clay, Taj Mahal & Koko Taylor.
"For so long, I was told to nail my music to a genre or language, and like [Nina], I never did. I will sing in English, French, Hebrew or Japanese. It's the song and the story that matters." Stories inspire Lynne and she has gained a solid reputation in the Live Lit (Storytelling) community by performing monologues from her upcoming one-woman show: A GREAT BIG DIVA which highlights her life: in Showbiz; in a plus-sized body and stories of her own family history. These compelling and oftentimes hilarious stories are all accompanied by live music.
TICKETING INFORMATION
Raue Center's #1 priority is the health and safety of its patrons. As a result, we pledge to operate in accordance with all current state-mandated restrictions and safety protocols.
In-Person Tickets: When purchasing seats, patrons make their own seat selections.  Our ticketing system automatically accounts for current social distancing guidelines when purchasing.
This event has the following entry requirements and attributes:
COVID-19 Protocol: Masks are required for all patrons ages two and older. Proof* of full vaccination or Negative COVID-19 test within 72 hours of the event is required for all patrons ages 12 and older. 
*Please note that government mandates and venue protocols, including COVID-19 vaccination requirements (e.g., any related timing windows and acceptable type(s) of proof), may vary, and are subject to change. Please visit the link below for the latest information and details.  
Click HERE for the most up-to-date COVID-19 Rules and Restrictions. If you have any questions, please contact our Box Office at boxoffice@rauecenter.org
 *Restrictions and Fees apply. All Ticket sales are final and non-refundable. Processing Fee – $3 per ticket charge for all purchasing to support the software that enables online ticket sales. (No Processing Fee for RaueNOW Members). Facility Fee – $6 per order charge that helps operate and invest back in our historical venue. Tickets: Capacity limits may apply, based on current IDPH guidelines and social distance protocols. Upon choosing your seat(s), the ticketing platform may allow for space between groups. You will receive a confirmation email within 24 hours of purchase. You will receive your tickets, via email, approximately 21 days prior to the show date.