Tickets:
Regular: $25*  | RaueNOW Members: $17.50*
RaueNOW Members Save 30%


Best Stand-Up in the Burbs!
Now in its 12th season, Lucy's Comedy is one of Raue Center's longest-running programs and the cornerstone of its comedy programming. This hilarious series has featured amazing regional and national comedians including Dwayne Kennedy, Rocky LaPorte, Denise Medina, John DaCosse, Mike Preston, Pat Tomasulo, Tim Benker, and many more. 
Recommended Audience: 18+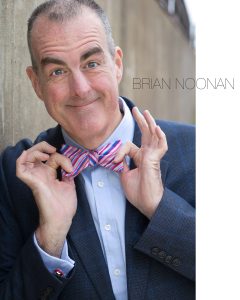 Brian Noonan hates writing about himself in the third person. He does however enjoy telling people about himself, so here goes…
Brian has been entertaining people with his comedy, radio shows, and television appearances for over two decades. A comedy veteran, Brian has traveled from coast to coast, one step ahead of the law, much to the enjoyment of all kinds of folks, whether they were sitting in plush theaters, choking in smoky (yes, that used to be a thing) comedy clubs, celebrating a 7-10 split in a bowling alley lounge or licking their wounds on the Vegas Strip.
No matter his audience, Brian's comedy is a relatable collection of stories and observations. Brian uses his own adventures, failures, and foibles to hold a mirror to the audience creating a bond that his audiences carry with them. No two of Brian's shows are the same owing to a bad memory, a short attention span, and a personal delight in going wherever his mind takes him. Since this is a bio, it's time for credits. Brian hosts his own show on WGN Radio.
LUCY'S COMEDY CURATOR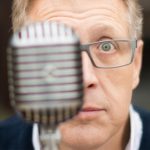 Radio personality, John DaCosse, curates Lucy's Comedy. During his 30+ years in stand-up comedy, the brilliant John DaCosse has developed a solid reputation nationwide. He has opened for big names like Ellen DeGeneres, George Lopez, Craig Ferguson, and Billy Gardell. John has appeared on NBC, Comedy Central, and TBS. Mr. DaCosse has also served as an audience warm-up for Rosie O'Donnell and The Oprah Winfrey Show.
TICKETING INFORMATION
Raue Center's #1 priority is the health and safety of its patrons. As a result, we pledge to operate in accordance with all current state-mandated restrictions and safety protocols.

In-Person Tickets:  Seating will be selected by our ticketing system which automatically accounts for current social distancing guidelines when purchasing. Seating arrangements may vary, pending current COVID-19 rules and regulations.
This event has the following entry requirements and attributes:
COVID-19 Protocol: Masks are required for all patrons ages two and older. Proof* of full vaccination or Negative COVID-19 test within 72 hours of the event is required for all patrons ages 12 and older. 
*Please note that government mandates and venue protocols, including COVID-19 vaccination requirements (e.g., any related timing windows and acceptable type(s) of proof), may vary, and are subject to change. Please visit the link below for the latest information and details.  
Click HERE for the most up-to-date COVID-19 Rules and Restrictions. If you have any questions, please contact our Box Office at boxoffice@rauecenter.org
 *Restrictions and Fees apply. All Ticket sales are final and non-refundable. Processing Fee – $3 per ticket charge for all purchasing to support the software that enables online ticket sales. (No Processing Fee for RaueNOW Members). Facility Fee – $6 per order charge that helps operate and invest back in our historical venue. Tickets: Capacity limits may apply, based on current IDPH guidelines and social distance protocols. Upon choosing your seat(s), the ticketing platform may allow for space between groups. You will receive a confirmation email within 24 hours of purchase. You will receive your tickets, via email, approximately 21 days prior to the show date.