Ticket Pricing:
In-person*: $25  | RaueNOW Members: $17.50
Virtual**: $20 | RaueNOW Members: $14 
ABOUT THE COMEDIANS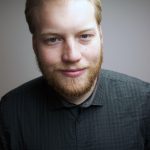 Nate Armbruster: Born in Detroit, Michigan, Nate Armbruster has been doing stand-up comedy since before he even had a driver's license. His quick wit, subtle humor, and laid back, charismatic, style is a hit with audiences across the country and has earned him a spot at comedy festivals and has opened for comedians such as Mark Normand, Nikki Glaser, Bert Kreischer, Ryan Hamilton, Tim Meadows, and TJ Miller just to name a few. You can also listen to him as the host of the One Crazy Story Podcast which has been ranked in the top 50 on Apple Podcasts and has been featured on Unqualified with Anna Faris.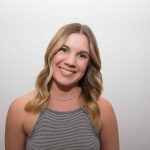 Mary Kate Beck is a stand-up comedian from the south side of Chicago who started stand-up comedy in 2016! Her comedy style is relatable and autobiographical with stories that will have everyone laughing! She is the producer of "All That Good Stuff "Comedy show, and the host of the Tapster Open Mic every Tuesday. You can find her performing in comedy clubs all over the city including Zanies, Comedy Bar & Laugh Factory! She has performed in shows alongside Pat McGann, Jimmy Flannigan, and Joey Villagomez!
SOCIAL DISTANCING PROTOCOLS FOR SEATING:
Raue Center for the Arts is in compliance with state-mandated safety protocols. Masks will be required when entering the space and throughout your stay.  If you're still unsure about sharing a night with us for a live event, the virtual ticket is the perfect way to stay home and enjoy a show!
TICKETING INFORMATION
Live Tickets: Available seating complies with current social distancing guidelines. You may select your seats and a confirmation email will be sent within 24 hours.
Virtual Ticket: Upon purchasing a virtual ticket, you will receive a confirmation email with a link to Raue Center's Vimeo page where you will be able to view the performance. The event will go live a half-hour before the start of the show with our pre-show.
If you have any questions, please contact our Box Office at boxoffice@rauecenter.org.
Click HERE for New COVID-19 Rules and Restrictions.
*Restrictions and fees apply. **No fees for virtual tickets.   All ticket sales are final and non-refundable.