A NEW WAY TO LAUGH!
The BEST STAND-UP in the BURBS!….now in the comfort of your own home!
Every Thursday Night @ 7p!
With the constraints put on us by the COVID-19 pandemic, Raue Center for the Arts and host John DaCosse have created a new way to watch their long-standing program, Lucy's Comedy. Raue Center brings the best stand-up comics in the Chicagoland area into your home with "Lucy's At Home"! Streaming is easy and FREE with a RaueNOW Membership! Digital Memberships are only $20 for the year!

Rami Abushhab is an actor and stand-up comedian in Chicago, Illinois. As an actor, he has starred in various independent films and commercials for big brands such as Tinder, Lids, RCN Cable, and Home Run Inn Pizza. As a comedian, Rami has been selling out his incredibly popular shows with his group, Terminal Five Comedy. He was also featured on "Laughter Is Good For The Soul" which debuted as the number one comedy album in the country on iTunes.
Spark Tabor is every bit as laid back and comfortable on stage as he is motivated and driven offstage. Spark Tabor has won the Funniest Person in Columbus contest and the 1st annual Verified Laughs competition at the Chicago Laugh Factory. He has appeared on Fox TV's Laughs. He has also been accepted into multiple festivals, including the Laughing Skull Comedy Festival in Atlanta, Limestone Comedy Festival in Bloomington and the Women in Comedy Festival in Boston. Spark is also one of only a handful of comedians who have won both the amateur and professional divisions of Go Bananas Comedy Club's prestigious Funniest Person in Cincinnati Contest in consecutive years.
---
HOW IT WORKS!
Each week, RaueNOW Members will receive an email with a link to stream Lucy's At Home, featuring a rotating cast of Chicagoland's favorite comedians!
NOT A MEMBER? NOT A PROBLEM!
Raue NOW Memberships start as low as $20 per year and are tax-deductible. A RaueNOW Membership unlocks awesome perks like; Lucy's At Home, 30% of two tickets to shows*, eligibility in our Queen of HeARTS Raffle, Early Access to Purchase Tickets, Ticket Exchange Privileges, and MUCH MORE!
CLICK HERE to see the different levels and to sign up and start viewing and saving today!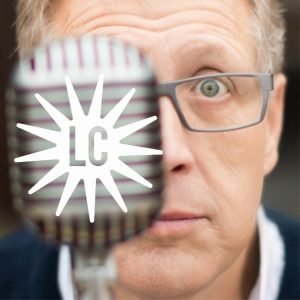 Radio personality, John DaCosse, curates and hosts Lucy's At Home. During his 30+ years in stand-up comedy, the brilliant John DaCosse has developed a solid reputation nationwide. He has opened for big names like Ellen DeGeneres, George Lopez, Craig Ferguson, and Billy Gardell. John has appeared on NBC, Comedy Central and TBS. Mr. DaCosse has also served as an audience warm-up for Rosie O'Donnell and The Oprah Winfrey Show.