FEB 29 @ 8p
Corky Siegel's Chamber Blues with Ernie Watts and Lynne Jordan
Tickets start at $25*
Member Price starts at: $17.50*

Jazz and Classical music mingle with Corky Siegel's Chamber Blues!
Corky Siegel's Chamber Blues, with the West End String Quartet, and Kalyan "Johnny Bongo" Pathak virtuoso on world percussion, blends classical and blues styles in a chamber music setting. This groundbreaking innovative sound has earned tremendous acclaim throughout the country and continues to open new doors for classical and blues/jazz listeners alike.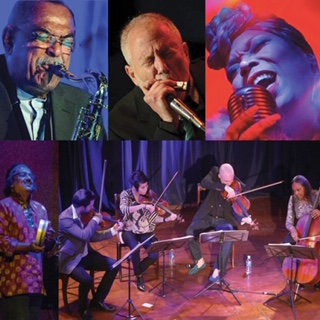 Two time Grammy winner Ernie Watts (Rolling Stones, Frank Zappa, Buddy Rich, Pat Matheny) –"one of the greatest living saxophonists at the top of his game." (All About Jazz) – joins Chicago Blues Hall of Fame legend Corky Siegel with his Chamber Blues ensemble and bodacious diva Lynne Jordan, taking you to exotic places you've never been before.
Two extraordinary powerhouses come together for a night of dazzling musical fireworks with riveting Blues harp from one of the country's best, Corky Siegel.
"Gorgeous….fulfilling…thrilling … receiving more than one standing ovation during the unforgettable evening." – Star Tribune
Zone A: $35*
Zone B: $30*
Zone C: $25*
Time: 90 Minutes
Genre: Music
Rating: PG
 *Additional fees and restrictions may apply. Prices may vary depending on zone. Student tickets must be purchased through Raue Box Office (not available online). Please note, a $7 facility fee will be added to all orders.