Tickets
Member: $21* | Regular: $30* | Virtual: $20* (per household)

In-Person Tickets
Virtual Tickets
Jacquelyn Vale is a Chicagoland based vocalist who covers a unique variety of jazz, rock, soul, pop, and country from all eras.
From the timeless voice to the glamorous look straight out of Hollywood's Golden Age, Chicagoland vocalist Jacquelyn Vale is pure Vintage — with a modern twist! She takes her audiences on a musical journey with her eclectic blend of jazz, rock n' roll, and soul classics from the past and present.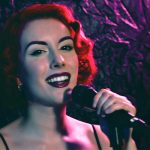 Jacquelyn's musical influences transcend time, ranging from legendary performers like Billie Holiday and Ella Fitzgerald, to icons of the Silver Screen, like Judy Garland and Marilyn Monroe, to modern stars, like Adele and Amy Winehouse. Jacquelyn's unique musical style was cultivated from an array of musical experiences while growing up in the northwest suburbs of Chicago. She started competing in singing competitions in middle school, then went on to perform in countless theatrical productions. In high school, she performed with her choir at the Vatican and was in a nationally acclaimed vocal jazz group.
In addition to singing at retirement communities throughout the area, Jacquelyn is wowing audiences at local venues in the Chicago suburbs, including the Martini Room in Elgin, Villaggio Ristorante in Roselle, and the Chubby Bullfrog in Dundee. That list of venues grows every day as her career continues to take off. Hers is a performance you won't want to miss.
*Restrictions and fees apply. All ticket sales are final and non-refundable. Please note, a $7 facility fee will be added to all live ticket orders.
SOCIAL DISTANCING PROTOCOLS FOR SEATING:
Due to official state mandates, we have to cap both performances at 50 people. Patrons can buy up to 4 tickets per live ticket order.
Raue Center for the Arts will be spreading the audience out to maintain safe social distance and will be strictly following other safety protocols. Masks will be required when entering the space and throughout your stay.
If you're still unsure about sharing a night with us for a live event, the virtual ticket is the perfect way to stay home and enjoy the cabaret.
TICKETING INFORMATION
Live Tickets: When you purchase seats, they will be assigned based on current social distancing protocols. You will receive an email within 24 hours of purchase with assigned seats.
Virtual Ticket: Upon purchasing a virtual ticket, you will receive a confirmation email with a link to Raue Center's Vimeo page where you will be able to view the performance. The event will go live at 6:30 PM with our pre-show.
If you have any questions, please contact our Box Office at boxoffice@rauecenter.org.
Click HERE for New COVID-19 Rules and Restrictions.