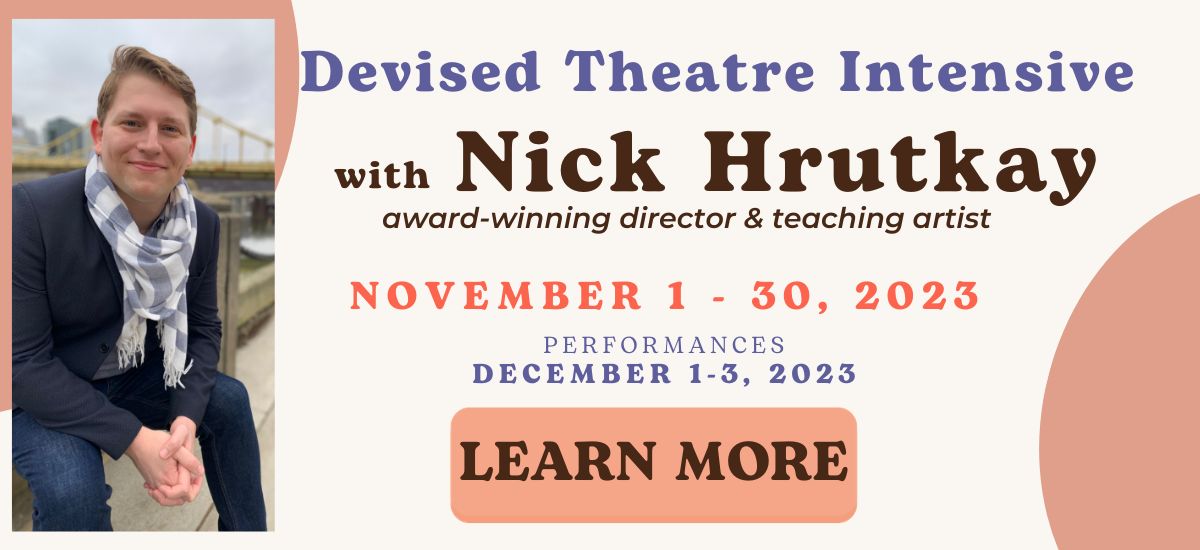 Only 25 spots!
Ages: 13-18
No Devising Experience Necessary!
This 45-hour intensive in Devising Theatre has been designed as a practical exploration of different techniques to create a new world premiere play. This process will help you develop your skills in collaboration, ensemble work, improv, acting, and playwriting using contemporary theatre exercises to bring an original holiday story to life.
Devised Theatre is loosely defined as the process of collaboratively creating a new work without a pre-existing script wherein the collaborators are also the performers. In the standard theatre model, a single playwright writes the text and then a director casts actors and selects designers to interpret that text, resulting in a theatre production. With Devised Theatre, however, the collective artists begin without a script.
A devised piece of theatre can literally start with anything: a painting, a song, a real-life event, a novel to adapt, a video game, social media posts, non-fiction interviews, a photograph, poetry, etc. Multiple ways to devise exist. Our source of inspiration for this holiday show is "Letters to Santa".
Please follow this link to get an understanding of some of the research being prepared that may influence the direction the script may take: businessinsider.com/letters-from-kids-to-santa This process requires great creativity, the need to work collaboratively, and the ability to create/learn new material to mount a world premiere production.

Directed by Nick Hrutkay with Raue Center for the Arts's Director of Education, Rob Scharlow, students will demonstrate their ability to understand Devised Theatre and its process by creating a Devised Theatre piece to perform December 1-3, 2023.
Anyone who has an interest in theatre is encouraged to apply. No devising experience is necessary. This intensive is designed for students who might want to be actors, playwrights, or anyone with just a love for the arts. We accept those with a wide range of experience, from beginners to more experienced students. This series of workshops is a fun, creative, and safe space in which to bond, create, and grow with a group of other students!
Fall Discount Day Registration: September 30, 2023 from 11am to 4pm at Raue Center For The Arts, 26 N. Williams Street, Crystal Lake, IL 60014
Who Can Register: During Cider Fest, registration will open through the Box Office for both members and non-members.
Online Registration: Starting that night, online registration will be available for both members and non-members through etix.
TUITION
$425 | Multiple Student Discount (2 or more registrations): $403.75 (per student)
$318.75 | Multiple Student Discount (2 or more registrations): $302.81 (per student)