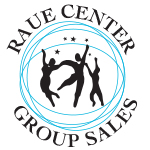 Do you hate the hassle of having to organize all your friends or group members, get a final head count, and collect payments from everyone? Do you wish there was a better way to take advantage of group benefits without having to go through all the headaches? Now there is. It's time to put together Your Squad!
Here's how it works:
What days will it works for you?
Pick up to five dates(click here to select your dates) of any single Williams Street Repertory plays and within two business days we'll send you a promo code good for an increased discount rate on tickets (15% for 10-20 people, 20% for 21-50 people, and 28% for more than 50 people) and a toolkit for helping you to spread the word.
Spread the Word:
Tell your friends, your family, your church group, your classmates, whomever you'd like about the show and they will use your promo code to save more on the dates you chose.
Who Benefits? You!
There's more! While your group receives increased discounts you receive a free ticket to the show and a drink ticket for a free drink at either one of our two in-theater bars.
Please Keep in Mind: with the "Your Squad" Program that if Your Squad does not reach the group minimum of 10 people you will receive an invoice from us with the charge of $32.50. Your Squad is also not guaranteed to sit together, and dates only apply to Williams Street Repertory shows.
Your Squad Frequently Asked Questions:
Can I add or change my "Your Squad" dates later?
Yes, you can. Call into box office at 1-815-356-9212 (12-4p M-F) or email Matt Fraser at mfraser@rauecenter.org and we'll be able to adjust the dates you've selected (limited to two date changes per show).
Is there any way to guarantee my group sits together?
No, there is not since seating cannot be guaranteed with the Your Squad Program. If you'd like to sit together with your group we suggest finding an open area in the theater on the performance date you've selected and buying that area. For example, telling your group to buy Row E. If it's critical that your group sit together we recommend calling the box office at 1-815-356-9212 (12-4p M-F) of emailing Matt Fraser at mfraser@rauecenter.org and inquire about booking a traditional group.
Are there any restrictions on where I can sit?
Nope. Your promo code is viable for any seat in the house on the dates you've selected.
Will everyone in my group be charged $32.50 if the group doesn't reach 10 people?
No, the charge of $32.50 is a one-time fee that will only be charged to the group organizer and only if the group doesn't reach 10 people. Your entire group will keep their discount even if the group is too small.
When is the deadline for getting 10 group members?
We will not charge you until it is impossible for anyone else to join Your Squad. This means the charge would not come until after the final performance date you've selected. For example, if you selected June 4, 5, & 6 we wouldn't charge you until June 7. If you meet the minimum of 10 people, however, there will be no charge.