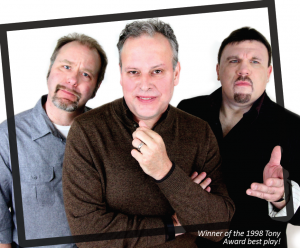 A longtime friendship gets put to the test in Yasmina Reza's biting comedy, "Art," produced by WSR.
Only July 8, the theatre part of TheatreFEST goes into high gear with two shows running in rotating rep at downtown Crystal Lake's Raue Center For The Arts. Yasmina Reza's Tony Award-winning comedy "Art" runs select days July 8 – July 31.
"Art" follows three longtime friends, Marc, Serge and Yvan. When Serge drops a fortune on a piece of modern art, his friends' surprising reactions touch off a series of personal confrontations that threaten their friendship in hilarious ways. This intelligent, rapid-fire comedy, sparkling with verbal wit, explores the power of art to engage the imagination… not to mention enflame the emotions.
"I enjoy stories where seemingly mundane events cause these tremendous explosions between people," explains director and ensemble member Michele Vazquez, "I find it very true to life. We fight about a painting or leaving the toilet seat up or any number of stupid things. But what we are really fighting about is something else entirely; an old wound, a grievance, a resentment, a thwarted expectation. It resonates because we've all been there…and it's funny for the same reason. Sometimes you just have to laugh at yourself."
"Art" features ensemble members Ivan Ewert as Yvan, Tod Kent as Serge and James Turano as Marc. "Art" is produced by Williams Street Repertory, McHenry County's only professional theatre company and opens at Raue Center For The Arts on July 8.