Raue Center Cafe
January 3 @ 5:00 pm

-

7:00 pm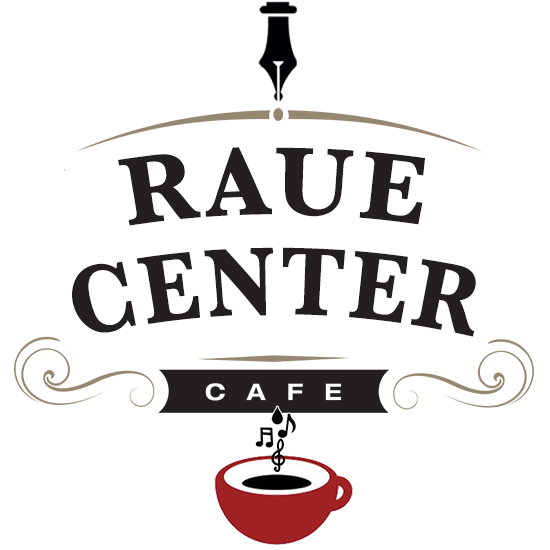 Raue Center Café
Weds & Thurs
5-7p
FREE ADMISSION
Raue Center hosts some of the best local talents around in its cafe space.
Dedicated to realizing its mission of Arts for All, Raue Center is proud to host local talent free of charge to our community. Artists are welcome to hone their skills in a warm, cozy atmosphere while patrons are free to indulge in a selection of beverages from our cafe bar.
The schedule is subject to change, so please scroll down for our most up-to-date calendar of events.
If you are interested in performing in our cafe space please email program manager,
Kayti Sault at ksault@rauecenter.org.
Cafe programming is sponsored by Piano Trends.
---
DADHAT
Dadhat is a live performance based duo that formed in the summer of 2018 at a music festival in Benton, Illinois. The duo consists of a keyboardist, Joe Floress, and a drummer, Jackson Gibbons. They are also in the local band Alabaster, and in another band Gold Bear that's based in Chicago. Joe's influences are Jazz and electronic music whereas Jackson's influences are Rock and Funk. They blend their dances together creatively and they enjoy the challenge of improvisation.
---
ANDREW KORZENIK
Andrew
Korzenik
 was born in a log cabin in 1809. He went on to serve as the 16th President of the United States until his untimely death at the hands of John Wilkes Booth. Hold on…that was Lincoln wasn't it. 
Andrew
Korzenik
 is actually an Actor, Magician and a marginally funny human being from Chicago Il. In 2018, he graduated from Ithaca College with a BFA in Acting with a Minor in Creative Writing. In his free time, 
Andrew
 can probably find your card. Speaking of which, was it the Queen of Hearts? It's always the Queen of Hearts. For more information please visit 
www.andrewkorzenik.com
"
---
DAVE MARTIN
Heartland balladeer Dave Martin describes his work as "95% autobiographical", a statement attested to by his narratives about carefree exploits, comical two-bit criminals, and quieter reflections that appraise his place among his midwestern surroundings.
A University of Iowa Journalism graduate who is etching a songwriting sensibility that lies at the wry musical crossroads somewhere near where Jimmy Buffett and Greg Brown meet, Martin puts his journalistic skills to good use to tell stories that alternately poke fun at and thoughtfully regard the human condition; a soft, warm touch consistently ensured.
---
JANUARY 24 | 5 to 7p
BOURBON COUNTRY
With a sound as sweet as its name, the acoustic driven duo of Bourbon Country blend ultra tight harmonies and smooth but driving guitars to give a rich dynamic sound to your favorite past and present country and rock hits.
While continuing to deliver country hits from the past and present, Bourbon Country has expanded its sound to deliver an eclectic mix of the best of traditional and modern country, country rock, and acoustic favorites. You'll hear the boys play memorable hits from traditional country artisans like Johnny Cash and Hank Williams Jr., modern country superstars like Jason Aldean and Florida Georgia Line, country rock tunesmiths like the Eagles and John Denver, pop hitmakers like Elton John, James Taylor, and America. And what acoustic act would be complete without the Beatles?  As successful bands and artists do, Bourbon Country continues to evolve, expanding its musical palette but always delivering the best in popular music from multiple styles.
---
Proudly sponsored by

Related Events