Want an easy way to plan your group's outing to historic Raue Center For The Arts? Look no further. Below you will find a downloadable travel guide complete with restaurants, shopping and parking. You also information on lodging, access to our exclusive members lounge and souvenir gifts and photography can be found below.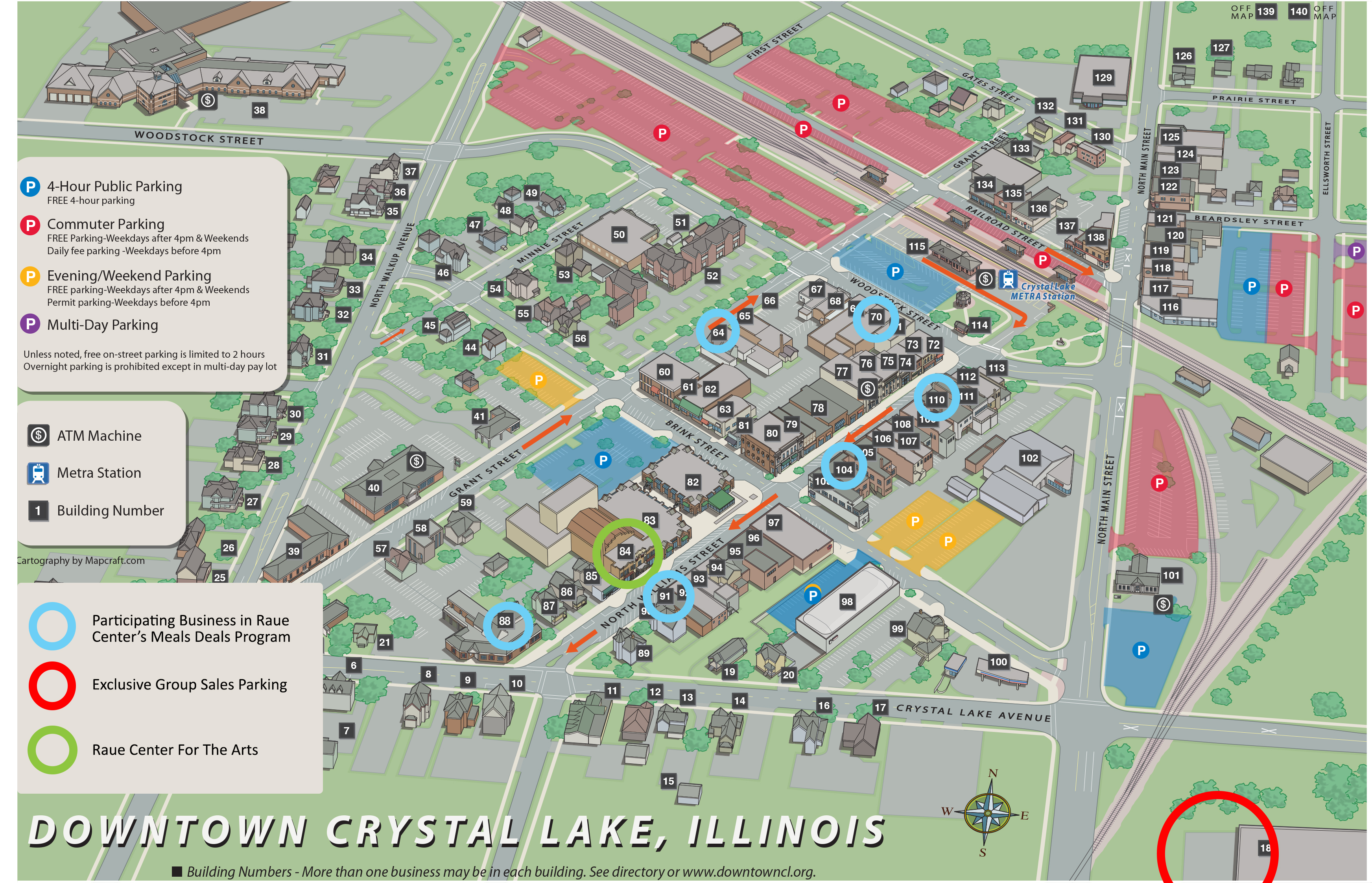 Click Here for a downloadable version of this travel guide.
+Map Key+
#84. Raue Center For The Arts
Meals Deals Program Participants
Raue Center is working with select downtown restaurants to provide you with discounted meals for the best experience possible for you and your group. The participating restaurants are listed below are also marked on the above map (also downloadable here).
#110. Retro Bistro – French & Tuscan Cuisine, specializing in Wine and elegant Dishes
#70. Georgio's – Classic Pizzeria, Deep Dish & Thin Crust options available
#64. Taqueria Las Cumbres – Taqueria specializing in Classic Mexican cuisine
#91. Le Petit Marche – A European-style market, great Wine selection & Lunch/Dinner options
#104. Kaleidoscoops Ice cream & More – Drinks, Ice Cream & Classic, old-style Candies
#88. Mellie's Chocolate Co. – Chocolates, Ice Cream & Classic old-style Candies
Exclusive Parking

Exclusive Parking for groups is available at 100 S. Main St. (#18 in map above) with optional shuttle service from from the parking lot to the theater. If you wish to opt for not using our exclusive parking service there is an abundance of parking all around and near the theater as well as throughout the downtown area.
Coming by Metra
If your group is arriving by the train the Crystal Lake stop of the Metra's Union Pacific Northwest Line is located less than two blocks from the theater. Please check the Metra website for the most up to date Metra schedules.
Lodging Near Us
Below are listed nearby places you and your group might consider to stay at while you plan your visit. 

Holiday Inn (800 S Illinois Rte 31, Crystal Lake)
Country Inn & Suites (600 Tracy Trail, Crystal Lake)
Souvenir Photography & Gifts
Please let us know in advance if you would like to have photos of your group outing taken or if you would like some of the souvenir gifts we have available by emailing mfraser@rauecenter.org or by calling the box office at 1-815-356-9212 (12-4p M-F)
26 N Access

Please let us know in advance if you and your group wish to have access to our upstairs membership lounge. We create temporary passes for you and your group's access to the bar that will be available for pick up at the Box Office with your group's tickets, as well as any comp tickets or drink tickets your group has earned through our Rewards Program.